The fog was thick when we arrived at the ski hill in Pomfret, Vermont to pick up our numbers for the Covered Bridges Half Marathon. 
I was there with my running partner, Ginna, her husband, and my sister Caroline. We had an hour to wait for the start, which gave us plenty of time to worry. I hoped my knee, which had been giving me trouble for the past month or so, would feel good so I could enjoy the legendarily beautiful course. I'd been doing physical therapy and taking it easy on training for the past few weeks to rest the knee, but I feared I'd taken it a little too easy. By the time we lined up on the country road, the sun had burned off all but a few puffs of fog, which hung among the mountains. The fields were emerald green. I urged Caroline to start at the front. "You routinely finish in the top 1%. You belong there," I said, ever the big sister. She went. Ginna and I squeezed into the middle of the pack, where we belonged. The starting gun fired. 
It's not a huge race —about 2000 runners — but it begins on a narrow road, and we spent the first mile or so trying to find room to run our pace. We had a loose goal of finishing in under two hours, which meant we should run nine-minute miles. After a few miles I began to have a feeling in the back of my throat like I was about to cry. I think it had more to do with exertion than emotion, but it was probably some mix of the two. My thoughts were overwhelmingly negative, along the lines of "I can't do this. I don't want to run. No way can I keep up this pace." I was anxious about holding Ginna back. I suspected she was feeling pretty good, on pace to match our PR from last fall. Our training had gone perfectly for that race, and we'd handily met our goal of finishing under two hours. We ran side by side the whole way, pushing each other along until the very end. It wasn't easy, but I felt well-trained and strong, and I wanted it. 
Today was different. I tried some mantras. I told myself I was strong enough. I was ready for this. I reminded myself of the great 10K I'd run just five weeks earlier on a hilly course, but that only provided a contrast to the way I felt now. I plugged into my trusty playlist. The feeling stayed lodged in my throat. I couldn't turn my thoughts around. I was in the middle of a race renowned for its incredible scenery and I couldn't see it at all. I could only think of how much I did not want to continue running at this pace.
After four or five miles, Ginna asked me how my knee felt. "My knee feels fine," I said. "I just don't feel like running." Maybe I'd lost some fitness, maybe it was the pollen, or maybe it was only that my confidence was shaken. We ran through a covered bridge and I wasn't even charmed. Seeing my mom in Woodstock gave me a boost, but it quickly faded. Don't be fooled by the smile.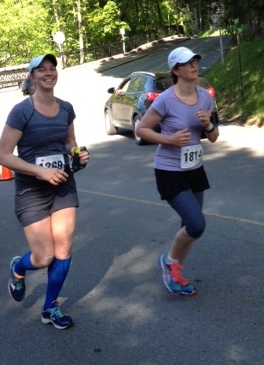 I told myself one more mile for a few miles, and I hung with Ginna. I knew there was a big hill at mile eight and I dreaded it. I fantasized about coming to a complete stop at the end of the next water table, chugging a cup, and then refilling my handheld bottle. When we hit seven miles I looked at my Garmin and saw that we were at a 9:15 pace. Not fast enough. I was officially slowing her down. Even if I could hack the pace, I couldn't stand to feel this miserable for another hour. I told Ginna that if she wanted to stay on pace, she'd need to go ahead. "You got this," I said. "I'm okay, but I'm just not feeling it today." I told her she looked great (she did). She looked pained but went ahead. We'd discussed this possibility in the days before the race, so she knew I meant it. 
I immediately slowed to a walk. I'd thought I might need to walk the rest of the race, but within seconds the urge to cry was gone. I walked for precisely one minute. It was glorious. The road there had no shoulder, no place for spectators. There was, however, the babbling Ottauquechee River to my right. I began to run again. As it turned out, that was the only walking I did during the race, aside from some relatively brief water stops. I thought maybe I could run 9:30 miles, but I didn't feel like it. Maybe later. Pretty soon I saw a young guy on the river kicking back in a kayak with a fishing rod. He looked divinely happy, and he was shouting, "You guys are awesome. You're doing great. Go, runners!"
"Catch anything?" A runner called.
"Not yet," the guy said.
"Me neither!" the runner replied. I smiled. It felt nice to smile. I could go as slow as I wanted to. There had never been any chance of me winning this thing anyway. What was the point of running in misery? In the space of a few minutes, my negative thoughts had vanished along with the possibility of running negative splits. "I can't do this" was replaced by, "I can do this." Below is a line graph showing my positive splits. This racing strategy is not recommended by any coach or book. 

Vermont was looking particularly gorgeous—lush from the spring rains. The Taftsville covered bridge, which Tropical Storm Irene had badly damaged in 2011, was restored, painted an eye-popping red.
I took in barns and fields and a pristine river. At the end of a long dirt drive, a man played a conga and a white-haired woman danced to the beat. I passed an accordion band, a high school pep band, and a brass band made up of elderly men. I smiled and waved at them all. I'd said I would enjoy the beautiful course and now I was. 
At the bottom of the hill, I savored a cup of cold water and refilled my bottle. It was everything I'd dreamed it would be. Somehow I got up the hill. It probably would have been just as fast to walk, but technically I didn't. Volunteers stood in the middle of the road, offering ice, which I didn't need, but it was so nice of them to offer it and I thanked them. After the hill, Joe Cocker came on, singing my song: "Feeling alright? I'm not feeling too good myself." 
When I hit the clock at mile nine I looked at the pace bracelet I'd made. Finishing in under two hours had become all but impossible in a matter of two miles. Instead of feeling disappointed, I was elated that I didn't have to worry about it anymore. 
I alternated between soaking up the scenery, composing this post in my head, and wishing I were in a kayak instead. The big hills were behind me, but there were still plenty of rollers. Around 11, we passed the country club, and down a steep embankment people swam in a clear blue pool. I would have broken both legs getting down there and I am not a member of any country club, but it was tempting. Not long afterwards, a woman stood in front of her house, silent, holding a sign that read "Mental Toughness." Right.
When I first slowed down, I told myself I'd run under a 9-minute mile for the last one. But when I actually got to mile twelve, I revised it to the last half mile. Then I revised it to getting the pace on my Garmin to dip under 9 at least once more before I finished. That I managed. I considered gunning it to squeak in under 2:05. Nah. My legs actually felt good, but my mind didn't see the point in going any faster.
Headed down the home stretch, I picked it up. I looked for my people, and I was shocked to see my husband, holding my 3-year-old, who was grinning from ear to ear. My 5-year-old was hiding his face in his dad's pant leg. I almost burst into tears. I made a gleeful noise. I considered stopping but I wasn't thinking clearly. I grinned and waved in my 3-year-old's face. I later realized he'd been hoping for a high five. Thanks to my mom, I am able to include a photograph of my moment of recognition.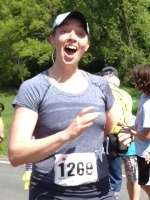 I kept running, because it was too soon to stop. I've always thought it would be amazing if my husband surprised me like that, but as wonderful as he is in many ways, it's not really the kind of thing he would do, and this race was two hours from home. Except apparently it is exactly the kind of thing he would do just when I needed it most. It was the perfect ending to a hard-fought 13.1 miles. When I crossed the finish line, I raised a fist in victory for the first time ever.
I found my family and friends. Caroline finished in 1:30:40, a PR a mere fourteen months after the birth of her son. She was the sixth woman overall, and the winner of her age group. Her prize was an exquisite mug from a Vermont pottery studio with a rabbit on it. I hope she starts every morning from now on sipping coffee from her cup of victory.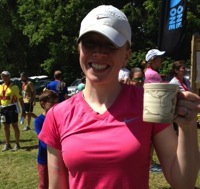 I've always been her fan, but since I've become a runner, I've gained a new appreciation for her talent and grit. She makes it look easy, and boy is it ever not easy. Ginna held on to her pace and finished under two hours, barely off our PR. She said she'd felt good, though it was hard to leave me. It was sad that the way we felt during this race didn't match up, but it was bound to happen sometime, and I'm grateful that our friendship is strong enough that we could choose to run our own races and enjoy a beer together at the end. 
I congratulated Caroline thoroughly and pumped her for details. She talked about her own turning point, which came at about the halfway mark, too, when she decided to push her pace in order to stay with a pack. She remembers thinking, "Now is when I either make it a race or I don't." She made it a race. So did Ginna. I'm proud of them for making that choice. I didn't make it a race. I made it a scenic long run. I'm proud of myself for making that choice. Sometimes the hardest thing for me to do is let myself off the hook.