Johanna wrote a song (she's a fictional character, and this song is part of something I've recently christened The Reckless Gamble Project). 
It's called "Easy to Be Good," and it's here, along with Andrew's post, if you'd like to give it a listen. 
It's her first song, and it's about longing for a man she knows is no good. "I'm tired of good/I'm sick of nice/I'm ready for/a taste of vice." That's the gist. She's only fifteen (almost sixteen). She knows what she's doing and she doesn't. There's something a little desperate about it. 
Andrew and I are both proud of this one. It's our favorite so far. For one thing, as soon as I brought it to him, after minimal fiddling around, it felt great to sing it. Just physically great, especially when he started harmonizing. "One more time," I said way more than once. It was a treat to enjoy it before agonizing over how to record it. 
I told Andrew it was a country song. Something about the language and the bounce. I imagined lots of acoustic guitar strumming. I was thinking of Levon Helm's last couple of albums (especially Dirt Farmer). He said yes, but also pointed out a hymn-like quality. He played me the piano part and I was sold. Strumming did come later. I like that it feels like a hymn and uses some church language, but that the sentiment is the opposite of a hymn. 
At first I came up with a simple melody, but then I thought it seemed too obvious, too much of the same thing, and I thought he would think that so I tried to complicate it. He pointed out the weirdness of my choices and I admitted I'd been trying to anticipate what he would think. From now on I'll avoid that particular waste of energy. 
Lyrically my initial idea was to go with a list of good behaviors, and I came up with a lot of them, but that didn't progress, so I kept it to the first verse. The way it breaks down there is narrative movement from each verse section to the next, or at least that's the intent. For the second time in a row, I came up with the bridge first, originally imagining it would be the chorus ("I've been living in a good world/moving through it like a good girl/wondering 'bout the first bad thing I'd do/now I know it's you"). I couldn't find a good melody for it, though, so I came up with a different chorus that did have a melody I liked. Andrew wrote the melody for the bridge later. Much better than what I had. It had been the most boring part of the song and now it might be my favorite. The rhymes here are simple but came pretty naturally, something I've struggled with in the past. 
I'm so happy with the warm feel Andrew found for this song. I've been really into Kasey Musgraves' 2013 album, Same Trailer Different Park. I bet I've listened to it more than anything else this year. It's a country album, and she's young, but it feels classic to me. Nothing fancy, nothing overdone, nothing deliberately off-kilter or alternative, either. Just good honest songs with a great sense of humor running underneath them. That's what I was going for here.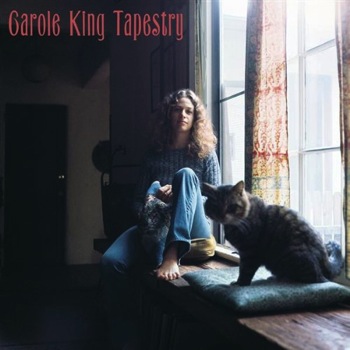 A framed copy of Carole King's 1971 album Tapestry hangs in our living room. Carole is chilling on a window seat in front of giant windows framed by airy paisley curtains. She sports bellbottoms and long wavy hair, and her cat is in the foreground. I feel calm and comforted and sort of bathed in sunlight every time I look at it. I also love the album, which is chock full of good honest songs, and Andrew's been hugely influenced by her piano playing. I don't think our song sounds much like anything on Tapestry, but it evokes that kind of feeling in me. I imagine Johanna's parents wore the album out, and that some of that seeped into her.